CORONAVIRUS UPDATE (updated 25 October 2020)
The property is open for bookings. Please call 07775934999 for more information. In the current circumstances, we have relaxed our standard cancellation policy. 
If you have to cancel your booking because UK government public health measures mean it is unlawful to travel to or to make use of the accommodation you booked, you may choose to either:
– transfer your booking to a later date free of any charges, subject to availability – you will have to pay any difference in price if the cost of the new booking is higher or be reimbursed the difference if the cost of
the new booking is lower; or
– request a voucher with a redemption value equal to the amount previously paid by you for the booking.
We have a new cleaning protocol please email welldownhouse@gmail.com if you would like to read it. 
We look forward to welcoming you soon from a distance!
If you are staying at the Shepherds Barn to celebrate a particular happening or jubilation we can arrange bouquets, champagne etc, as well as point you in the direction of some extraordinary places to dine or explore. Do let us know what you have in mind and we will inspire you with ideas. 
The Shepherds Barn named as an alternative to SOHO FARMHOUSE… click to read.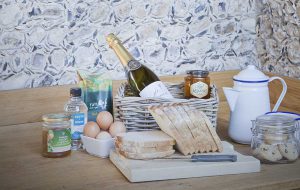 .